Ways of payment ↵
To pay for services and subscriptions, the following forms of payment are available:
a) Bank deposit ▼

Piraeus Bank | Account No. (cοffers): 6285-010168-712 | Piraeus Bank Sa | Swift / BIC code: PIRBGRAA - Iban: GR1201712850006285010168712 | Lykourgos Kekebanos

EFG Eurobank | Account No. (coffers): 0026-0016-16-0101308533 | EFG Eurobank Sa | Swift / BIC code: ERBKGRAA - Iban: GR6302600160000160101308533 | Lykourgos Kekempanos

New Postal Savings Bank - Eurobank | To any facility or post office Hellinic Post(ELTA) all over Greece, using the same account number of Eurobank.

Accounts holder: Kekembanos Lykourgos (dos & Co ΟΕ).

b) Payment via Paypal ▼

If you have an account paypal, log in to it and select 'Send & Request Payments' > 'Pay for goods or services'. In the field: 'Email or Name' type: This email address is being protected from spambots. You need JavaScript enabled to view it. and click Next, by filling the amount (EUR) you wish to send is with your order.

If you're not a registered user in paypal, but you wish to use it by paying the amount via your credit card, you can contact us to send you to your email 'payment request' and to pay the amount via of a secure (ssl) transaction paypal system.

c) Payment via Viva Wallet with credit card, account or pre-paid code ▼

If you have already a Viva Wallet account, log it to it and select 'Pay an account' > 'Transfer' > 'Transfer to a business'. In the field: 'VAT' type: 047111827 by filling the amount you wish and finally clich: 'Continue' & 'Confirm'.

If you don't have an eletronic wallet Viva Wallet, but you wish to pay the amount via your credit card, you can contact us to send you to your email 'payment notice' and to pay the amount via of a secure (ssl) transaction system Viva Wallet.

Also, there is available the posibility of payment with pre-paid codes (Viva e-money code 10€, 25€, 50€ & 100€) vouchers, in which you can easily find and buy from 2.500+ points of the network Viva throughout Greece (shops, kiosks etc).

d) Payment with Bitcoin ▼


We accept payments to the digital coin Bitcoin, with no extra charges and commissions (1:1) at the euro exchange rate set when the transaction is completed. Our Bitcoin address is as follows: bc1qaa9nqzsff4lfxv8krynxye8vdfy887pym3sklr



► General Information: This email address is being protected from spambots. You need JavaScript enabled to view it. | Payroll (Billing): This email address is being protected from spambots. You need JavaScript enabled to view it.
Choose one of the above ways, which suits you more for your repayment. After your deposit, please send us an email with your payment details to immendiately begin the proccess of activation (or renewal) of the provided service, while receiving the legal document electronically via email.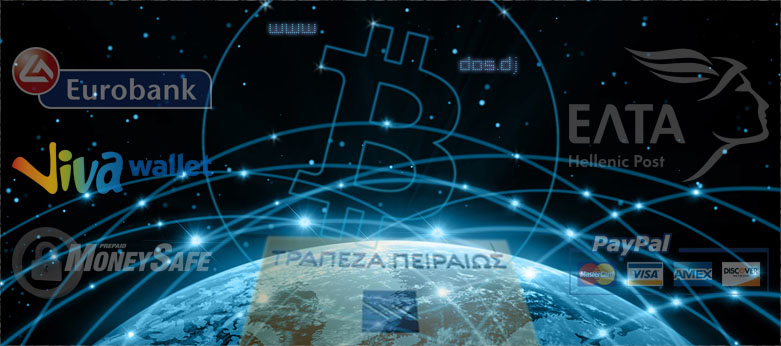 → Don't hesitate to communicate with us
whatever

your questions are.